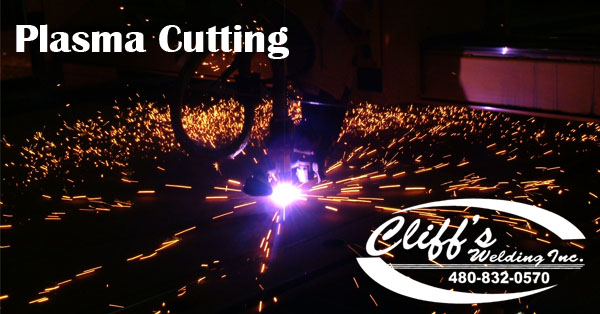 We are your source for you plasma cutting services in Phoenix and Mesa, AZ. We have the skill to handle any plasma cutting job and the knowledge to make it affordable. Using state of the art tools and machinery we strive to do more than meet your expectations, we try to exceed on design compliance. We offer our services to the individual and businesses alike. No job is too small or too big.
How Plasma Cutting Works
Cliff's Welding plasma cutting involves the use of a high velocity stream of ionized gas and high temperature. By directing the flow of the inert gas through the a specially developed orifice an electric arc generates the plasma stream. This heats the material to a molten state and the high velocity gas plasma stream blows the unwanted material away.
Plasma Cutting Advantages
Generally plasma cutting is utilized to cut 2 dimensional shapes that do not require fine detail or precision cutting. It is normally used for the thicker sheets of metal as it is more effective and costs less than a laser. It is also more affordable because no specialized tooling is needed. Plasma cutting is one of the best options for the thicker metal cutting as it is much less expensive.
Applications Of Plasma Cutting
Plasma cutting is a pretty widely used service. It can be used on a very wide variety of metal parts. Some of the examples you will see cut with plasma cutting are: parts for heavy machinery, automotive parts, motorcycle parts, parts for agricultural equipment, signs, aircraft components, panels and much more.
Common Materials Cut With Plasma Cutting
Spring steel, carbon steel, and stainless steel are some of the most common types of metal cut with plasma cutting. It can be used for other metals, yet some exotic metals require shielding gases when welded or cut to prevent advanced oxidation.
Plasma Cutting Considerations
Depending on your application you will need to consider the following factors in choosing plasma cutting. Parts that require extreme precision will benefit from laser cutting for stringent tolerances.
An oxide layer will be present on the cut surface.
For all metals, but particularly aluminum, the cut edge will be rough.
Cut edges may experience some pitting. Pitting can be as large as the thickness of the material.
Edge angles are not exactly 90%, many times the deviation can be as much as 10 – 20%
Intricate parts might experience some warping, in these cases your welding pro will find a better solution.
---
Professional Plasma Cutting Mesa AZ
If you have need of a professional welding shop that does Plasma cutting Cliff's welding in Mesa Arizona has the tools, knowledge, and experience to help you with all of your plasma cutting needs. Stop by out shop in Mesa or give us a call to get your plasma cutting project started.