A Little About Our Football Towers
When you're searching "Filming Towers" or "coaching tower" for football, soccer, baseball, softball, track, or even marching band Cliff's Welding's innovative filming/viewing towers are engineered specifically with coaching and directing in mind.
Capture video footage of all your sporting moments from the top of this 12' tall video tower.
Use built-in tripod/monopod holders to set up your still/video camera. Your "tower cam" can then provide you with a better vantage of all the action on the field below that you just can't see from the sidelines.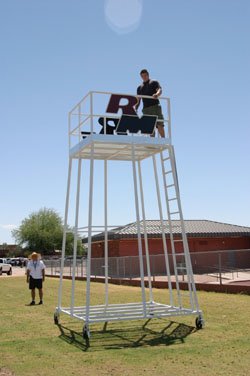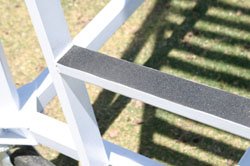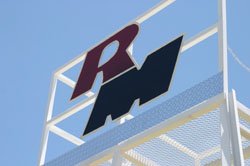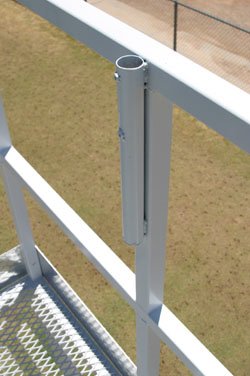 Having a filming tower for your football, soccer, or other sports team allows for better visibility during practices and games.  Coaches will be able to see more of the field at once and the action can be recorded for later review and analysis.  This information can help catch coaching opportunities that would not be noticed any other way.  Being able to track where the attention of offensive or defensive players was during clutch plays helps offer insight into how and where their attention should be in future games.
Record Practices
Filming towers allow for a better view during practices.  Coaches will be able to watch from a better perspective and record video that can be an indispensible training tool.  Being able to see from the side behind the in-zone or any perspective around the field makes it so you can catch problems before game day.
Offensive and defensive coaches will be able to see weaknesses in lines to find places to tighten up play and win more games. As they say, information is power.
Record Games
On game night the tower can be moved behind the goal post to allow a eagle eye view of the in zone and the sidelines.  Video can later be reviewed by line coaches to help discover training opportunities.  Live action games playing against competing teams include fast action.
It is impossible to watch every player at once and even harder to see in the middle of the skirmish.  Having a video tape of the game from a raised platform allows you to see into the action and record play.
Portable
Being able to move the tower to review different angles or focus on various positions of game play gives unprecedented information for offensive and defensive line coaches. A lot of the techniques and shades that happen during game play in the center of the action are eclipsed from the in zone or sidelines. Filming towers allow a higher view to see more of the action and tape it for later review and training.
Showing School Pride
Every team practices and plays hard.  Having the team logo proudly displayed during practices or games on your filming tower shows school pride from a highly visible perspective and brands your tower.  The logo can be fabricated to include the style, colors, and look of your school.  This is an excellent option for schools that want to leave no doubt about having pride for their team and school.
12ft from ground to platform
Total height approx 16 feet tall
Base 92"x92"…..Platform 72"x72"
Swivel locking casters- solid or pneumatic wheels
"Slip Resistant" non-skid steps
Powdercoat finish
Built-in tripod/monopod holders for optimal filming
Assembly is required upon delivery (instructions and hardware provided)
Can ship anywhere in the us (call for shipping quote)
OPTIONAL: delivery and set-up available in Arizona
OPTIONAL: lockable ladder cover
OPTIONAL: school letters or emblem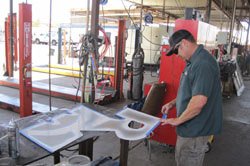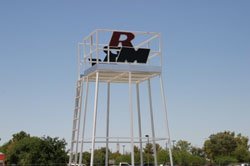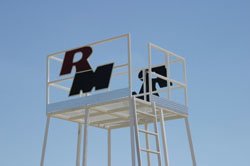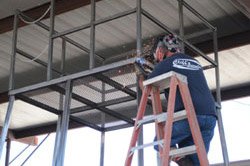 CALL (480-832-0570) OR EMAIL SCOTT@CLIFFSWELDING.COM FOR CURRENT PRICING!
12′ Coach's Tower (Model# CTW1)
OPTIONAL: Custom Logo (Model# CTW2)
OPTIONAL: Lockable Door Over Lower Ladder (Model# CTW3)
Ordering Your Filming Tower
If you'd like more information for ordering your school a filming tower from Cliff's Welding get in touch with us via our contact form or give us a call at 480-832-0570.  We offer delivery and set up in Arizona along with shipping anywhere in the United States.  Help your school's team go further with a football tower that can help you get a eagle's view of the action.  
Contact Us or Call 480-832-0570
Delivery & Set Up in Arizona
If your school is in the state of Arizona we offer delivery & set up of your filming tower.  We fabricate your tower and transport it safely on one of our trailers. Once we have it on your property we do the final assembly and get it ready for use.
Nationwide Shipping
We can package up our filming towers and ship them anywhere in United States.  Clear instructions are provided to make final assembly easy for our customers outside the state of Arizona. Please call us for accurate prices for shipping.
Summary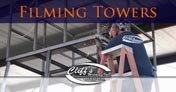 Service Type
Filming Tower Fabrication
Provider Name
Cliff's Welding, Inc.
,
4007 E. Main Street
,
Mesa
,
Arizona
-
85205
,
Telephone No.480-832-0570
Area
Description
When you're searching "Filming Towers" for football, soccer, baseball, softball, track, or even marching band Cliff's Welding's innovative filming/viewing towers are engineered specifically with coaching and directing in mind.