When you're searching for "MIG Welding" anywhere near Phoenix, Mesa, Chandler, Scottsdale, Glendale, Gilbert, or Tempe and want the best MIG Welding in Arizona, Cliff's Welding is at your service.  With many decades of collective experience there is no job we cannot handle.  We can use MIG Welding to repair your trailer, hitch, truck, or whatever else needs to be fixed or built.  We offer MIG Welding as part of our portable welding services to help repair things in place.
As one of the most efficient forms of welding MIG welding is can be used in a wide variety of applications. One of the most common uses for MIG welding is automotive repair.  MIG welding is incredibly strong per inch and can produce a strong weld even down to half a millimeter.  That means when a section of metal needs to be repaired or welded together, MIG welding is a great option for small and light sections and heavy thick sections.
Trailer Repair
Automotive Repair
Agricultural Repair
Hitch Installation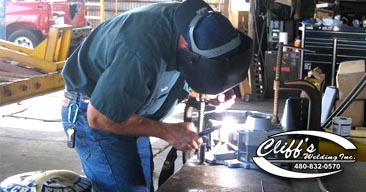 Hitch Repairs
Custom Toolboxes
Custom Aux Fuel Tanks
Portable Filming Towers
MIG Welding Advantages
Gas metal arc welding (MIG Welding) is a type of welding that uses a spool of wire that is continuously fed through the welding gun. It is surrounded with a blanket of inert argon gas. This helps protect the molten metal from being contaminated by atmospheric conditions around the weld. One of the major advantages of MIG welding is long stretches of welding can be done without stopping. This makes it faster and it makes the weld more uniform. Stick welding has to be stopped to insert each individual stick making visible breaks in the continuity of the weld.
MIG Welding is applicable on all thicknesses of aluminium, steel, nickel and even on stainless steel and more. It is most common in commercial welding fabrication and manufacturing. The only real limitation to MIG welding is that it can not be done overhead or in a vertical position. This is because the material being welded is liquid and gravity will cause the material to drip and fall out of place. For overhead or vertical welding TIG or stick are better alternatives.
Steps To Quality MIG Welding
To get the MIG Welding done right your welder will follow these steps to ensure that their work is consistent, strong, and uniform.  Understanding the keys that experienced professionals use will help you know you are getting the highest quality service.  We only employ the most talented and experienced welders that have consummate knowledge of MIG Welding.
How We Do MIG Welding Right
The difference between anyone who's starting a new trade or skill and the salty dogs that have been doing it for decades is experience. Here are a few tips and tricks we use that differentiate our MIG welding services to better serve our clients.
Start The MIG Welding Machine Right
The key to the quality of our welding is our precise attention and knowledge of how to perform the best MIG welds possible. Stick and TIG welding are more forgiving for inexperienced welders which is why we only have our highest trained and most experienced welding professionals handling all of your MIG welding jobs.  We make sure we know the thickness and type of metal you need welded so we can set up the voltage, speed, flow rate, and gas type correctly for the best quality welds.
Prepping The Joint For MIG
They say cleanliness is next to Godliness, and it couldn't be truer for welding. All welding jobs need to start with clean surfaces for the weld to be any good. Debris that is in the area that gets into the weld will cause it to be less strong. And we all know weak welds can fail. Don't fail to realize that this is a critical step in producing a quality weld.
Comfort Is Key In MIG Welding
While they say that you don't sit on the job the best welds are made by welders that are comfortable in the position necessary to do the welding.  MIG welding is an art which requires a stead hand, precision, and complete focus.  Our welders find the most comfortable position to make you welds so we provide consistent and reliable MIG welding each and every time we help you with a project.
Use The Right MIG Welding Technique
Depending on what we are welding and how thick the metal is we might choose to use one of two different MIG welding techniques. The two MIG welding techniques are back handed welding and fore handed welding. Back handed MIG welding is similar to Stick welding in that you drag the MIG welding gun towards you and create the weld. This creates a deep level of penetration in the metal and makes a narrow and high centered weld. Fore handed MIG welding goes the opposite direction. You push the MIG welding gun towards the direction you are welding and it produces a shallower weld. In contrast the weld you create will be smoother and wider.
Depending on the application your MIG welder will use the most appropriate MIG welding technique to provide uncompromising strength and uniform appearance.
Professional MIG Welding Services in the Phoenix Valley
All sorts of personal, recreational, and professional equipment gets a lot of use and many times will need MIG Welding for repair.  We provide the most reliable and highest quality MIG Welding available to Arizona businesses and residents.  When you have a broken axles, damaged trailer hitch, or your trailer needs more involved repairs MIG Welding can be a great option to complete the repairs you need.  Stay safe while working and playing with well maintained equipment and repairs done by Cliff's Welding!
Summary
Service Type
Area
Phoenix, Mesa, Chandler, Gilbert, Glendale, Scottsdale, Tempe, Arizona
Description
Cliff's Welding provides the highest quality MIG welding services in the Phoenix Valley. For any project big or small, we can handle it professionally and affordably.