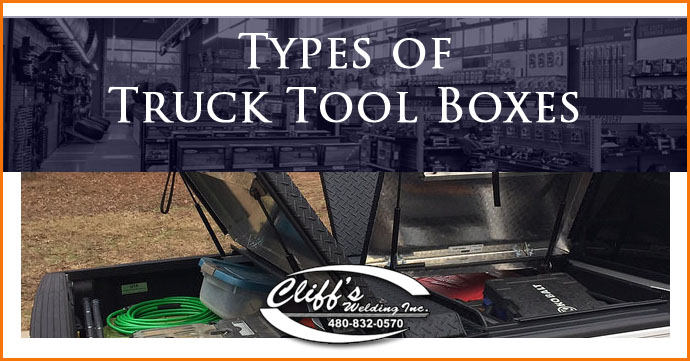 If you are searching for types of truck tool boxes, then this post can help you in your search! Cliff's Welding, Inc. sells and installs all types of truck tool boxes.  This guide is here  to help you choose which type of truck tool box you need.
Types of Truck Tool Boxes
Having a truck tool box adds value and extra storage to your truck. It will help protect your tools and gear from horrible weather conditions and keeps them free from theft.
Crossover Boxes
Crossover boxes are installed behind the cab, they span across the entire truck's bed, and rests on the bed's sides. These types of tool boxes do not extend all the way down to the bed of the truck. A few crossover boxes can even be set up to move smoothly along rails mounted on the bed's rails.
Side Mount Boxes
Side mounted boxes attach along the beds rails either on the left side or the right side; sometimes both. They then extend into the bed n ever reaching the bed's floor. These are exceptionally easy to access when standing by the truck's bed.
Chest Tool Boxes
These types of tool boxes are installed behind the cab of the truck bed, under the rear window. Chest tool boxes never rise above the side of the bed. Allowing it to fit underneath a standard tonneau cover; if the truck bed has one. These types of boxes offer zero rear view hindrance – but, they do restrict useable bed space.
Top Mount Boxes
Top mount tool boxes are mounted on top of the side bed rails and match the height of the cab, instead of into the truck's bed. Although these don't take up much space in the bed and easily are accessible, they can develop unsafe blind spots for the driver.
Storage Drawers
These types of storage boxes takes up the entire floor of your pickup bed, with a horizontal roof type section taking over the job as your new loading bed. Usually, sliding drawers are wedged in between the bottom and top areas of the storage drawer itself. These reduce the capability to fit large or cumbersome items in the trucks bed area, they are easily accessed and does not hinder visibility.
Wheel Well Boxes
These types of tool boxes are tall and narrow. Wheel well boxes are installed on the floor of the truck bed, and take up the area behind the rear wheel wells. Some types are designed to swing out towards the back of the truck for easy access.
Fifth Wheel Boxes
Fifth wheel tool boxes are installed to sit flat on the pickup's bed floor, with a shape that can receive a typical fifth wheel (think horse shoe) towing setup where a trailer hitch is installed in the bed. While this type of tool box can take many various shapes, none will obstruct the fifth wheel hitch post.
Hitch Mounted Carriers
These are technically not tool boxes at all. Hitch mounted carriers are secured to a trailer hitch opening, and take up zero in the bed. Since these typically aren't made of metal because of weight, they may not have the same cargo carrying space as other bed types of boxes.
Fuel Tank Tool Box Combo
Some tool boxes are even equipped with auxiliary fuel tanks inside them that are legal to carry fuels, like gasoline or diesel.  Having a combination of a tool box and an extra fuel tank means extra storage and extra fuel. Some of these boxes also can come in different types of boxes, from crossover boxes to chest types.
Contractor Under Body Tool Boxes
More of a niche type of tool box, contractor under body tool boxes are usually mounted or installed in front of the rear tires or behind them underneath the back of a flatbed truck. They utilize otherwise unused space leaving the contractors flatbed open for bigger jobs requiring more space.
For Tool Boxes, Truck Accessories, RV Products and More, Visit Cliff's Welding, Inc. In Mesa, Arizona
If you are in need of  truck accessories, hitches, tow bars, or RV products in Mesa, Arizona, give Cliff's Welding, Inc. a call today at (480) 832-0570, use our convenient contact form or stop by our shop located at 4007 E Main Street in Mesa.