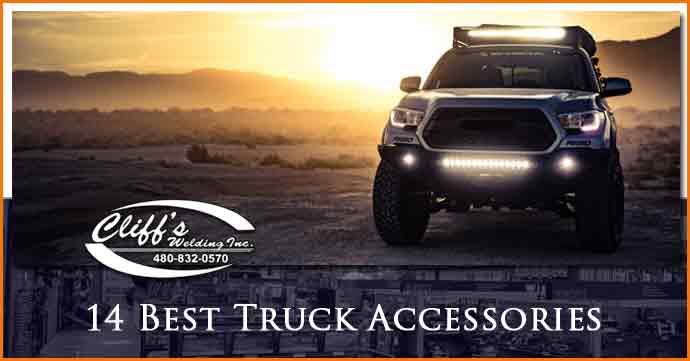 The best truck accessories make your truck more useful, safer, more durable, and help it stay better organized.  These essential pickup truck items help you enjoy your truck.
---
When you buy a new or used truck it may not have everything you need and want.
It's possible to buy a lot of the parts and accessories aftermarket to make your truck how you want it.
This post will list the best truck accessories that owners feel are essential pickup truck items.
---
14 Best Truck Accessories
Every single accessory on this list makes your truck easier to use, safer, more organized, and simply more enjoyable to own.  Each of them are available for purchase at Cliff's Welding and installation is available to make it a breeze to customize your truck just how you want it!
1. Tow Hitch
Not all trucks come from the factory with a tow hitch.  And some don't come with one that's up to the job you may want to do.  If you're towing a larger trailer or any heavy equipment you're going to need a Gooseneck hitch or a 5th wheel hitch.  These are designed to handle the weight and distribute it properly between your front and rear axle.
2. Trailer Brake Controller
The best trailers have their own braking systems to help control the load as you drive.  Your truck may or may not have a trailer brake controller install from the factory.  If it doesn't and you want to tow in maximum safety a trailer brake controller helps match up your trailer's braking to your truck's.  It's best if the trailer brakes every so slightly harder so it doesn't push your truck while you're stopping.
3. Tow Straps
It doesn't matter where you live and if there's snow, mud, or flash floods.  A tow strap can help you pull someone out of a bad spot.  Whether it's your spouse or just an unfortunate motorist you will be able to hook up to another vehicle and save someone from themselves. Most tow straps can support anywhere between 20,000 and 30,000 lbs.
4. Tie Downs
Trucks are made for moving items and cargo.  Tow straps are what makes that process safe and reasonable.  Prevent being the guy with a flying mattress or having an appliance fall over during transport to only get dented, scratched, and dinged.  Tow straps are inexpensive and additional cleats can be purchased and installed for more attachment points.
5. Truck Bed Liner
Truck beds typically come from the factory with the same painted finish as the rest of the truck.  This means that if you're transporting rocks, metal, or other hard cargo it can and will wear down, scratch, or gouge the finish.  Serious truck owners who use them prefer getting a truck bed liner.  Most popular among them is the spray in truck bed liner.  It does cost a little more but lasts longer, looks better, and helps preserve the look and value of the truck better.
6. Truck Bed Light
Hard work doesn't just happen during the day and being able to see in your bed and find tools is paramount.  Having a truck bed light that you can flip on and clearly see your cargo, tools, or other equipment makes it easy to get the job done.
7. Truck Bed Toolbox
A truck bed toolbox gives you a place to keep your tow straps, tools, and other equipment in a locked and safe spot in your truck bed.  This saves you from having to try to fit all of that equipment inside your truck.  Freeing up room in the backseat of a truck to care more people or cargo is always a priority.
8. Truck Bed Cover
A bed cover gives you a more sleek look and secure place to store cargo.  Most of them are locking and there are various designs of single section hard covers to folding bed covers and soft covers.  Which fits your needs best depends on if you frequently carry larger cargo or generally only have to have a few items in your truck bed that don't come up taller than the sides.
9. Tailgate Assist
A lot of newer trucks are being sold with tailgate assists that help lower the tailgate softly.  Older trucks or cheaper trucks tend to let the tailgate slam down like it's trying to break your vehicle.  A tailgate assist is a small telescoping shock absorber which makes it so your tailgate lowers nice and easy, without all the drama.
10. Running Boards
Running boards are a great option for trucks and SUVs.  They make it easier for kids, adults, and seniors to enter the vehicle.  The running board is set lower than the floor of the vehicle to give easier access and help climb into the truck in comfort.  They also help improve the safety of entering the vehicle with wider areas to step on with non-slip surfaces.
11. Nerf Bars
Nerf bars are much like running boards but are smaller, thinner, and are better for off-road vehicles.  They give the ability to more easily enter the vehicle but are less likely to make contact with the ground while you're off road exploring the wilderness.
12. All Weather Floormats
From the trail to the black top all weather floormats help keep your vehicle cleaner and more safe.  When you've been working, hiking, and just having fun tracking water, rain, mud, sand, or dirt into your truck leaves a mess.  All weather floor matts make clean up a snap and protect your truck's carpet.  Protect your vehicle's value with a set of all weather floormats.
13. Tailgate Lock
Tailgates aren't hard to take off which makes them a target for theft. A tailgate lock helps prevent this by adding a specialized lock that goes over the area used to uninstall the tailgate.  Tailgates run an easy $800 to $1,000 dollars.  So if you live in an area where things grow legs and walk off, consider stopping your tailgate from taking a walk with a tailgate lock.
14. Under Backseat Storage
Some items don't do well outside the truck and should be stored in the vehicle's cab.  To keep them organized an underseat storage bin can be bought and installed.  It keeps many of your common truck items dry, safe, and cleaner than a toolbox.  A common thing to keep out of sight in this area are firearms, sensitive tools, and other high-ticket items.
Truck Accessories For Sale
If you live or work in the Phoenix Valley we carry the best selection of quality truck accessories.  We sell them, and install them for our customers at our shop in Mesa, Arizona.  Specializing in truck accessories and trailer towing needs we can help you customize your truck for any needs and preference.  Our expert installers and team of welders can install anything and are able to custom design and fabricate for your specialized needs.