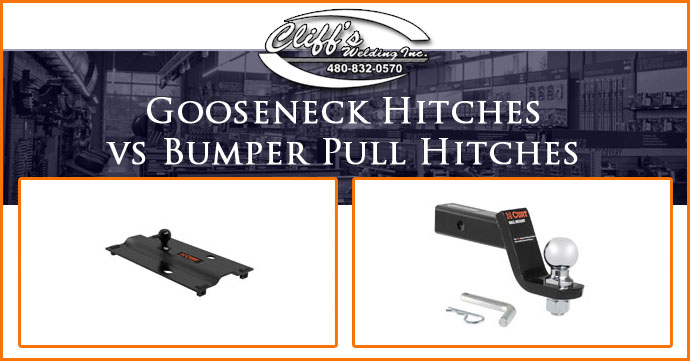 If you're trying to understand the difference between Gooseneck hitches and Bumper pull hitches you're not alone.  Below is our comparison between a gooseneck hitch and bumper pull hitch.  This will help you better understand
With trailer hitches, there are two main types: a gooseneck hitch and bumper pull hitch. Usually an RV will use a bumper pull style hitch for towing. It is common for trucks, SUVs, and some cars to provide a bumper pull type hitch for hauling a trailer. Whereas, a gooseneck hitch, also referred to as 5th wheel hitch, have a heavier duty system. These require being installed in pickup truck beds for towing. It is more common to see a 5th wheel RV, among other RVs using a gooseneck hitch.
How do you tell which type of hitch is best for your adventures? We start by comparing a gooseneck hitch and bumper pull hitch, determining which is best for your situation.
Gooseneck VS. Bumper Pull Hitches
Bumper Pull Hitches
Generally, RV users go with a bumper pull hitch due to less work involved, and most trailers use bumper pulls. A bumper pull does not require additional hardware installation, but there is pumper pull hitch systems available for higher performances. When dealing with small RVs or towing trailers, you will spend less from the start. However, if you are needing a heavier duty RV or trailer, you may need to invest more and install a gooseneck hitch.
Bumper pull hitches have the traditional ball & hitch system for towing. When it comes to bumper pull hitches, there are two options available: receiver and fixed-drawbar. Receiver style hitches are mounted to the vehicles rear, with a ball mount fitting within the trailer for secure towing.
Fixed-drawbar style hitches make use of solid pieces which allow a trailer ball to securely lock in the hitch. Fixed-drawbar hitches are an ideal choice for towing wide and/or long trailers where receiver hitches are often used for smaller trailers, bike racks or cargo carriers.
A bumper pull hitch is a less expensive approach. Additionally, the majority of trucks and SUVs have bumper pulls installed to offer basic towing.
Many times, when buying a new vehicle with the ability to tow, you may be asked to choose a hitch package by dealerships, as an added cost. Then, you can add other accessories to reach your desired towing effect.
Gooseneck Hitches
There are many terms for a gooseneck hitch, including 5th wheel hitches and deck over hitches. These types of hitches are designed for towing a heavy trailer, such as 5th wheel RVs. The main plate of a gooseneck hitch is installed the bed of a truck. The 5th wheel or trailer hitches from above, which eliminates the truck bed from being used. Although, it allows a truck to tow 5th wheel or trailers at an increased weight class.
The majority of trucks do not come with gooseneck hitches preinstalled, making them an addition charge when considering having a gooseneck hitch added instead of a bumper pull hitch. For this reason, many RV users decide to add the gooseneck style hitches later on.
The benefit of an RV having a gooseneck hitch include better control of the trailer, especially with sharp turns. It allows for an easier sway compared to bumper pulls. When using bumper pull hitches, it is necessary to learn how turning works, so you will not hit cars beside you. In addition, you must learn to control trailer saying based on the environmental conditions. Although sway is still something to deal with when using gooseneck hitches, the truck's weight assists in maintaining the RV or trailer from swaying too much due to center of gravity locations.
Gooseneck hitches cost more than traditional bumper pull upgrades. A low-end gooseneck hitch starts around a couple hundred dollars, and ranges to thousands of dollars. The type of trailer or RV being towed determines the hitch needed, and ultimately the cost of investment. A towing setup commonly doubles the safety chains for increasing security and stability.
Considerations for RV Purchases
When it comes to deciding on a new purchase, the type of trailer or RV is more important than the type of hitch. When you decide the right RV or trailer type for your needs, you can learn more about the type of traveling you will be doing and what hitch type is best. There are always classes that can be taken to learn more about towing. To understand both hitch types, you could consider taking classes for each, giving you more knowledge on what type is best.
Both gooseneck hitches and bumper pull hitches will serve their purpose. One is not always better, it all comes down to the environment, travel conditions and what you are more comfortable with.
Towing Hitch Sales & Installation in Mesa
If you own a truck or RV and have a trailer, boat, or other item you want to tow Cliff's Welding is your source for the best tow products and professional installation.  Our team of installers and welders understand towing and what it takes to do it safely.  They will help you choose the best hitches or towing solutions for your truck, suv, RV, or any other vehicle and provide skilled installation.  For more information about how we can help prep your vehicle to fulfill all of your towing needs please call 480-832-0570.