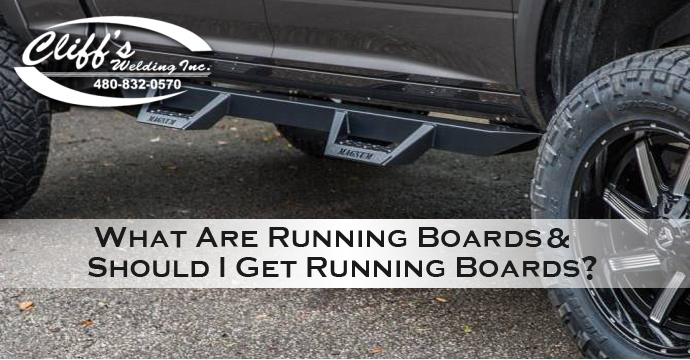 If you are searching for "what are running boards" or "should I get running boards" this post should help!
What are running boards?
Running boards are located underneath the vehicles door, and they extends to the very back of the vehicle and is used to help with getting in and out of the vehicle. These will generally be seen on vehicles with a high clearance and are harder to get in and out of. Running boards offer functionality and are installed on a wide range of vehicles. Although, there are plenty of vehicle owners who want running boards simply to feel customized. They are available in several different materials and textures to blend in with most vehicles.
People have been using running boards on their vehicles for several decades. You will see them on cars, trucks, and even Jeeps on the roads today. They are being built to blend in with the vehicles design and most people do not know they are using them. If you are considering having running boards installed on your vehicle, but you are not sure about the requirements and how to go about it or what to get, keep reading.
If you want running boards more for their appearance, keep in mind that brushed finishes, polished aluminum, chrome, steel, black gloss or black matte, and diamond plated will definitely enhance your vehicles appearance. However, if you are seeking something that is going to last, strong, and durable, it is materials such as molded ABS, steel, and aluminum that you need.
Should I get running boards?
If you are considering running boards for your vehicle, it does not matter if it is for their functionality or for aesthetic reasons, and maybe you want them for both of these reasons, now you need to decide whether they would make a good addition to your truck or maybe a SUV. Maybe you have already decided to get running boards and the issue now is "what kind should I get?" Well, the answer to that would depend on why you want them in the first place. The more affordable option would be to go with those made of molded plastic, of course, these will not be very durable, and you cannot count on them for substantial support. To put it bluntly, molded plastic running boards are mainly for the appearance However, you can get molded plastic running boards which has a baseboard that is made of aluminum that will provide the needed support and will be durable, that is, if you are seeking that extra boost.
Should you decide to go with steel, you will be getting running boards that are built to last! The steel kind are will be durable, and they can withstand an enormous amount of weight and they can take a lot of abuse, but they will have a hefty price sticker on them. The second function of running boards is the protection they give your vehicle, as well as others from flying debris. Moving wheels has a way about kicking up debris, including dirt, rocks, and many other destructive items, for instance 'nails'. When running boards are installed correctly, they can prevent most of this debris from being kicked up far enough to damage your vehicles paint job.
Running Board Installation In Mesa
The team of truck and towing accessory pros at Cliff's Welding, Inc. can help you choose the right running boards to suit your needs.  We proudly offer running board installation at our shop in Mesa, Arizona and offer our services to anyone needing help in the valley. For more information about running board installation please give us a call at 480-832-0570.